A Crews Recipe for Success
From the chefs onboard the nuclear powered submarine while deployed to the Western Pacific Ocean 1999

INSTRUCTIONS:
1.) Trim the fat off of the Buffalo steaks and butterfly (like cutting a pocket in the side). Mix all marinade ingredients together and place the steaks inside of the marinade. Allow the steaks to marinate for 24 hours in the refrigerator.
2.) The next day when you are ready to begin -- cook the bacon and drain it well on paper towels. Crumble into pieces after it is cool and set aside for later.
3.) Place the potato in a preheated 350-degree oven and cook for about an hour or until soft inside. Check with a thin, small knife for doneness inside. When the potato is done you can cut it in half lengthwise and scoop out the center. Leave some potato to hold up the skin and structure of the potato. Do not scoop all the way down to the bare skin. That is a common mistake.
With the hot potato scooping in a bowl now add the milk, sour cream, bacon and cheddar cheese and mix gently. Refill the potato and garnish on top with the small cubed peppers. When needed, heat up quickly in the Microwave and place the stuffed potato on the plate with the Buffalo steak.
4.) Sauté the mushrooms and onions in a touch of butter until translucent. Throw in the shrimp and pour a cup of the marinade over and reduce the liquid while simmering for a few minutes. This allows for the shrimp to get drunk on the marinade as well.
5.) Grill the Buffalo steaks and stuff them with the mushroom, onion and shrimp mixture and plate. Place the stuffed potato next to it and garnish further with the small cubed peppers.


-USN-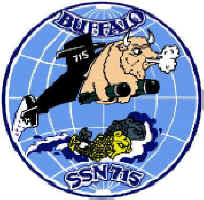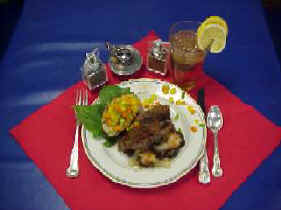 MARINADE INGREDIENTS:
2 Cups Virgin Olive Oil
1/4 Cup White Wine Vinegar
3/4 Teaspoon Fresh ground Black Pepper
1/2 Teaspoon Fresh ground White Pepper
1 Teaspoon Fresh grated Garlic
1/2 Teaspoon Fresh minced Thyme
1/2 Teaspoon Fresh minced Oregano
2 1/2 Teaspoon Mesquite BBQ Seasoning
1/4 Teaspoon Tabasco Sauce
1/2 Teaspoon Worcestershire
1/4 Teaspoon Sea Salt
Pinch Fresh minced Marjoram
1/2 Teaspoon Onion Powder
MAIN INGREDIENTS:
2 12 Ounces Buffalo Prime Rib Steaks, trimmed
1 Each Yukon Gold Potato
8 Ounces Shitake Mushrooms, sliced
1 Each Vidalia Onions, cut in strips
1/4 Cup 2 % Milk
6 Ounces Real Sour Cream
1/2 Pound Honey Cured Bacon
1/4 Pound Sharp Cheddar Cheese, shredded
1 Each Orange and Yellow Bell Peppers, cubed small
1 Each Green Poblano Pepper, cubed small
8 Each Black tiger Prawns, peeled and cleaned