Rapid Deployment Kitchen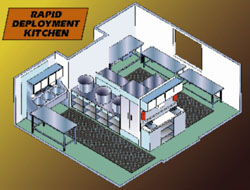 The Rapid Deployment Kitchen (RDK) is a highly mobile, rapidly deployable, container based kitchen which can be used to prepare a mix of rations at the battalion level. It is a new concept in field kitchens which uses a single commercial fuel fired burner to heat an FDA approved food grade thermal fluid which is circulated through modified, thermostatically controlled commercial appliances and a tankless hot water heater. The container is an 8 foot, by 8 foot, by 20 foot standard three for one expandable shelter. A major advantage of this kitchen is the low electric power requirement of only 10 kW as compared to an equivalent kitchen with 125 kW.
Description
The RDK uses state-of-the-art field food service technology to provide a clean, quiet, sanitary food preparation environment. It has an instant hot water heater with a sink for hand wash and a double sink for meal preparation. The food service equipment consists of a 30 cubic foot refrigerator, griddle, double stacked convection ovens, skillet and three kettles. The kitchen is vented with a continuous hood over the equipment, includes lights, work tables and accessories. The hot section is located in a separate compartment of the container and is fitted with several safety interlocks. The burner will operate on diesel, JP-8, or kerosene and uses approximately 2.5 gallons per hour when fully operational, requires about one hour for set up and 10 minutes to heat up the appliances once turned on.
Status
The RDK has been operationally tested both at the manufacturers and Natick. It was recently demonstrated to the Marines at Natick with the preparation of an A-Ration lunch. Technical testing is planned at the Aberdeen Test Center during 4Q99. Based upon this testing, user testing will be conducted at 29 Palms, California beginning in 2Q00. Production is expected to follow in FY02.
Reprinted from the Army's Field Feeding Equipment Research and Development page.
November 1999