Natick Gets Juice from DUST
Researchers Keep Coming Up with Fresh Ideas
The Soldier Systems Center (Natick) has teamed up with academia and industry in a new Dual Use Science & Technology (DUST) project to advance nonthermal ration processing technologies, specifically pulsed electric field (PEF) processing. Natick's DoD Combat Feeding Program hosted a meeting to kick off the collaborative science and technology project on June 22.
According to Dr. C. Patrick Dunne of the Combat Feeding Program's Advanced Processes team, PEF is an ideal pasteurization process for fresh or fresh-like fluid foods, such as orange juice, apple juice, apple cider, cranberry juice, and even carbonated beverages. PEF can be used to enhance commercial food processes as well as to extend high-quality shelf life of refrigerated products.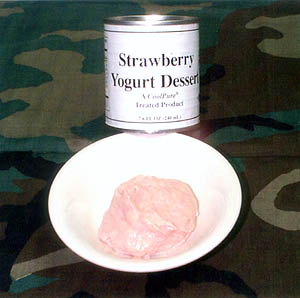 This yogurt dessert is one of the many PEF prototype products being developed by academia, industry and the DoD Combat Feeding Program
Dunne explained that PEF inactivates the vegetative forms of microorganisms without adversely affecting product quality. PEF may be used to produce shelf stable acid foods, where bacterial spores are not a problem.
Scientists involved in the DoD Combat Feeding Program work continuously to improve the variety, taste, nutrition, and shelf life of combat rations developed for the nation's military personnel. PEF will enhance quality of life for the warfighter by improving combat ration nutrition with pumpable, nutrient-dense items, such as dairy products sealed in convenient flexible packaging.
According to Dunne, the purpose of the collaboration is to conduct a series of commercial feasibility studies on PEF technology with a variety of military and commercial product candidates. The project's goal is to verify the technical readiness and economic viability of PEF technology in a commercial operation. The result will be the development of high quality commercial products with potential dual use as combat rations.
The PEF consortium is led by Ohio State University, with Professor Q. Howard Zhang of the Department of Food Science and Technology serving as the principal investigator. Other consortium members include PurePulse Technologies, Inc., Tetra Pak, American Electric Power, General Mills, Kraft Foods, Nestle R&D, Ameriqual Foods, and Hirzel Canning.
As a result of the effort, the United States will maintain the lead in PEF technology. More importantly, U.S. troops, as well as civilians, will enjoy fresher, safer, and more nutritious food products.
Reprinted from the September-October 1999 issue of the Warrior.
November 1999