Cultivating Cooks
Story and Photos by Heike Hasenauer
• • • • • • • • • • • • • • • • • • • • • • • • • • • • • • • • • • •
A handful of soldiers wearing tall white hats wandered about the aisles where Basic Noncommissioned Officer Course soldiers in the food service field were training to become food service managers.
MSgt. Rich Mutz, team chef for the U.S. Army Culinary Arts team, and other 1996 team members checked some of the confectionery cutouts that the students were fashioning into edible candy boxes that would hold delicate chocolates.
Mutz, part of an 18-member U.S. Army team, earned 16 gold, six silver and six bronze medals at the 1996 Culinary Arts Olympics in Berlin, Germany. The competition, held every four years, pits the world's best military chefs against each other.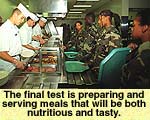 The fact that Mutz has competed in the last three consecutive olympics is something food service students admire and respect. And because he began his career like all food service specialists in the Army -- at the Army Center of Excellence, Subsistence's Basic Food Service Specialist Course at Fort Lee, Va. -- the would-be chefs he meets and teaches realize they, too, can shine.
Every year, about 5,000 new cooks -- more than 75 percent of them soldiers -- graduate from the recently consolidated BFSSC. The remainder of the students are Marines.
After graduating from the eight-week, two-day course, the cooks are assigned to any one of their respective service's dining facilities to feed some of the hungriest, most demanding people on earth. Some 50 students participate in each course rotation, with two courses running concurrently.
The advanced individual training begins with basic food service terminology, standardized recipes, fundamentals of cooking, functions of ingredients, sanitation, and weights and measures, said Maj. Alexander Davis, division chief of the Food Management Training Division. Students learn how to prepare meals in garrison dining facilities and in the field. Nutrition, energy management and environmental considerations are also part of the curriculum, said Ellen Waraksa, director of training.
In the 12-student labs, instructors "treat every student as though he or she has no experience," said Marine SSgt. Mike Schudel, an instructor. "Some students come with experience in food service, but most don't. Those who do often bring with them bad habits acquired at restaurants on the outside.
"What they learn in the first week is what carries them through the school," Schudel continued. "We teach them the proper use of utensils and how to maintain the equipment, how to cook eggs and vegetables, and how to make salads."
Training progresses from one level of difficulty to the next, introducing students to starches like macaroni and cheese, then to meats and gravies. Schudel gives the most "no-goes" for gravies. "That's the one thing they most often have to be retested on," he said. At the end of the first week, students prepare salisbury steak with mushroom gravy and buttered noodles. "Before they leave here, they do lobster, Alaskan king crab, shrimp, steak and cordon bleu," Schudel said.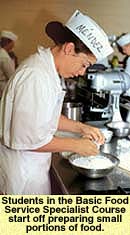 Students ease into their roles as food service specialists by first preparing one to five servings of various dishes, from cole slaw and potato salad to biscuits. In the second stage of training, they staff a small garrison dining facility, and each student must prepare portions for 50 to several hundred people.
Working with Armed Forces Recipe Card Service recipes, students must add or subtract portions of ingredients based on instructions for 100 portions.
"This part of the course reinforces the skills taught in the first two weeks, but students don't feel the pressure of feeding troops in a 'real' environment," said Waraksa. That's because everybody who eats in the facility is undergoing food service training and can empathize with the cooks and servers.
The following week, soldiers train in the large garrison dining facility. "Now the mission takes over," Waraksa said. "Students feed a battalion of soldiers who are stationed at Fort Lee in different phases of training, plus permanent-party soldiers."
"It's really a shock cooking and baking for hundreds of people," said Pvt. 1 Phyllis Kuch, who worked in food service before joining the Army. "We made punch today and had to use eight pounds of sugar! The course also opened my eyes to a lot of things, like the proper handling of food and methods of food preparation."
Pvt. 2 Kerry Burbank plans to be a career soldier and wants to study culinary arts. He worked for a restaurant before enlisting and often prepared meals for his family. "This is much different," Burbank said, grinning sheepishly. "It's a little bit experimental."
Food is not wasted in Army dining facilities, he learned. When countless bunches of bananas start to brown, a cook has to know how to use them. "We made a real large four-layer banana cake using 40 pounds of cake mix," he said.
For Army students, the training culminates with a four-day field training exercise that requires them to set up mobile kitchen trailers, use M-2 burners -- the major cooking source in the field that's also used in field sanitation -- and prepare T-rations and A-rations for several hundred AIT students, said CWO 4 Dennis McNece, chief of the Field Operations Branch.
"It's a challenging course," Waraksa said. "But because we always have another course starting, we can drop a student back a week. Our goal isn't to weed students out but to help them master the skills."
Those who make the Army a career can work to be among the best of chefs, like Mutz. Those who later choose to return to civilian life are equipped to secure jobs there.
"One thing is certain, this is an MOS people can use if they decide to leave the Army," said course instructor SFC James Moore. "You're gonna eat or you're gonna die."
Reprinted from Soldiers Online, April 1997.
-USA-
• • • • • • • • • • • • • • • • • • • • • • • • • • • • • • • • • • •
Return to Military Food Service
• • • • • • • • • • • • • • • • • • • • • • • • • • • • • • • • • • •
SeabeeCook Publishing, Shingle Springs, CA.
Last update: April 7, 1997 at 1600