Move Over McDonald's
Dining Facility Set To Exceed One Ton of Meat
by MSgt. Tom Allocco
Readiness Challange VI Public Affairs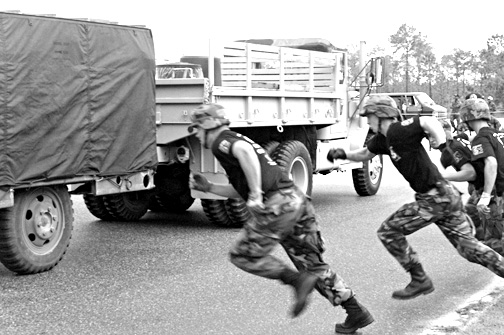 Air Combat Command scrambles to set up the mobile kitchen trailer at the sound of the horn
during Sunday morning RC VI events. Photo by SSgt Scott Thompson
• • • • • • • • • • • • • • • • • • • • • • • • • • • • • • • • • • •
Nothing says welcome like a good, hot meal. By that standard, Readiness Challenge competitors are getting a four-star welcome from the Prime RIBS cadre and the food service volunteers who are serving three meals a day.
| | |
| --- | --- |
| | SrA. Nicole Hellinger, 179th Air National Guard, scrapes a pan in the dining facility. Photos by SSgt. Scoot Thompson. |
Readiness Challenge is taking place at the home of Detachment 1, 823rd Red Horse Squadron. The Prime RIBS cadre instruct both civil engineer and services members Air Force-wide. They take pride in their professionalism and it shows. "We started planning for Readiness Challenge VI the day after the last Readiness Challenge," said SSgt. Joel Stone, dining facility manager. He's one of a dozen cadre members who are helping oversee a staff of 40 Reservist individual mobilization augmentee volunteers in the dining facility.
They're working 12-hour days, with the first shift turning on the lights at 2 a.m. and the second shift turning them off at 9 p.m. They have a big job preparing dishes for up to 500 people per meal. Before Readiness Challenge is over, they'll serve more than a ton of meat dishes. It takes a computer program to keep track of the flow of supplies from civilian contractor to dining facility.
| | |
| --- | --- |
| | TSgt Louis Storbinsky, Air Force Reserve Command, chops bell peppers for the lunchtime salid bar. |
Stone and the others have a simple philosophy about food service.
"The competitors are here because they were picked as the highest caliber people. When you are working for the best of the best, you want to give your best because they deserve it," Stone said.
The hard-working IMA staff has earned the respect of the cadre.
"Unfortunately, our support staff will never know how much they're appreciated. From the youngest to the most senior, they're giving you all they've got to ensure each one who passes through the facility doors is nutritionally equipped to meet the challenges that lie ahead, said MSgt. Dave Gregory, chief of Prime RIBS contingency training.
The 823rd cadre members train 900 to 1,200 students a year in the Prime RIBS skills needed to get people fed, sheltered and made combat ready under field conditions. They are judging former students during the competition.
"It's good to see students come back because you know you made an impact on their lives. They were individually selected as top performers and that's a result of what they learned here and from home station training," Gregory said. During more than two decades in uniform, he has seen the role of Prime RIBS grow.
"Historically we were known as just 'cooks'. However, today we run multi-million dollar dining operations, lodging and fitness operations. We maintain community activity centers and more. Today we get a lot of respect for what we do," Gregory said. It's a job that requires motivated and educated people, he said.
"Without the professionalism and dedication of the Prime RIBS staff this program would not be the success it is today. They are the ones who make this program happen and I'm proud to be a part of it, Gregory said.
From The Challange, newspaper for the Air Force's Readiness Challange VI at Tyndall Air Force Base, Florida, dated April 28, 1997. -USAF-
• • • • • • • • • • • • • • • • • • • • • • • • • • • • • • • • • • •
Return to Military Food Service
• • • • • • • • • • • • • • • • • • • • • • • • • • • • • • • • • • •
SeabeeCook Publishing, Shingle Springs, CA.
Last update: May 1, 1997 at 2315