The Best Chow in Kuwait
By Cpl. Eric McLeroy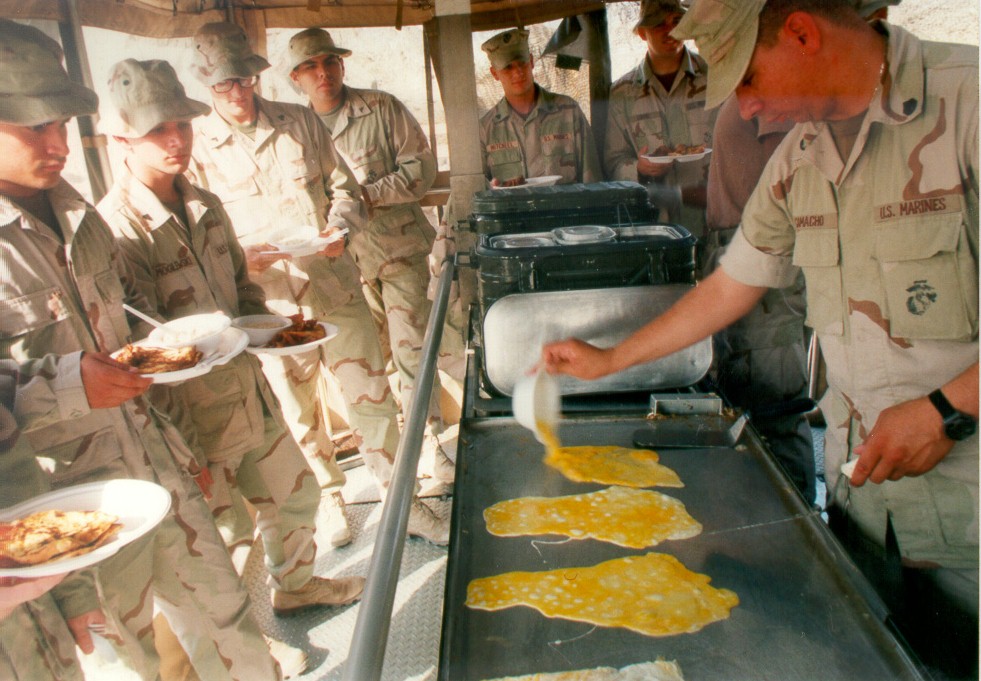 Staff Sgt. Jesus Camacho, logistics chief, Headquarters Commandant, 1st Marine Expeditionary Force (Forward), prepares breakfast eggs for Marines at Land Forces Institute, Kuwait. Marine cooks at Land Forces Institute work 18-20 hour days, providing two hot meals each day.

Photo by Cpl. Eric McLeroy
LAND FORCES INSTITUTE, Kuwait (May 18) -- The temperature outside reaches 120 degrees as they stand over a grill that seems to add another 20. Every morning, they wake to serve breakfast to the Marines of 1st Marine Expeditionary Force (Forward). Surrounded by the Kuwaiti desert, cooks deployed to Kuwait's Land Forces Institute have earned a reputation as "the best."
According to SSgt. Jesus Camacho, logistics chief, Headquarters Commandant, I MEF (Fwd), the cooks have attracted the attention of the Army and Navy for their dedication to service and excellence. The commanding officer of U.S. Army's Camp Doha has visited the Marine camp to experience "steak night."
"There was a VIP that ate our steaks and went back to Camp Doha telling everyone how good they are," Camacho said.
Marine Corps and Army Generals and the Navy Commander of the 5th Fleet have planned their visits to I MEF (Fwd) on Wednesdays for the chance to eat the popular steaks. The cooks, originally attached to Headquarters and Support Company, 1st Surveillance Reconnaissance Intelligence Group, I MEF, Camp Pendleton, are part of the only field mess unit that serves the same dinner as Camp Doha -- eggs-to-order, Wednesday night steaks and Friday night ribs in a field environment.
"I hear they're sending people from Camp Pendleton here just for the steaks," joked Cpl. Matthew Robertson, cook, I MEF (Fwd).
It's not the first time that the cooks have been recognized for their hard work. They are the same cooks who helped the 14 Area dining facility at Camp Pendleton win the Hill award this past year for the best chow hall at Camp Pendleton. Their work there also earned the dining facility second-place honors in a competition throughout the Department of Defense, Camacho said.
Although praised for outstanding service, the cooks weren't originally slated to deploy with I MEF (Fwd).
"Initially, six cooks were scheduled to deploy, and at the last minute were canceled," Camacho said. "Only three cooks made it on the plane to Kuwait, but they were listed as guards."
Camacho, Sgt. Tonya Palmer and Lance Cpl. Edmund Nelson arrived in February and the need for cooks was evident. The dining facility at Camp Doha was scheduled to furnish meals to the Marines, but one week into the deployment they could no longer provide that support. They were unable to transport food to LFI.
The Doha dining facility was prepared to make breakfast and dinner, but the food had to be picked up and served by Marines at LFI. Cooks were needed to make sure the food was handled properly and to ensure proper sanitation methods were used, Camacho said.
With only three cooks to support about 500 Marines and sailors, he said, "this has been my hardest deployment."
At first, the average workday began at 5 a.m. Two of the three cooks had to drive 30 minutes into Doha to pick up breakfast. After riding in a HMMWV for an hour, they returned to LFI and set up the mess tent. At 6:30 a.m., they prepared meals for Marines on guard duty around the compound, and served breakfast to the rest of the camp at 7 a.m.
The cooks stop serving at 8 a.m. and finish cleaning the mess tent by 9:30 a.m. At 1 p.m., they're back on the road to Doha to wash food containers and pick up dinner. They return to LFI at 3:30 p.m. and are ready to serve dinner from 4:30 to 6 p.m. After dinner another trip is made to Doha to clean the food containers and leave them to be filled in the morning. At the end of the day, they return to LFI at 8 p.m. for sleep before the cycle starts again the next day.
"When we first got out here, it was rough. This deployment is harder than others due to the long hours, but I'm used to that," Nelson said.
As more cooks were deployed to I MEF (Fwd), the workload eased for the original three cooks.
Working 15-hour days, Camacho and his team of cooks progressed from serving chow inside of a warehouse to setting up a mess tent and eventually acquiring a mobile kitchen unit. The cooks continually requested and received cooking utensils, food containers, and refrigerators from Doha to put together a dining facility at LFI.
"We're not even making the food and we're getting credited for it. Everybody loves us. I think it's because of the little extra things we do," Cpl. Matthew Robertson, cook, I MEF (FWD) said.
During breakfast and in the evenings, the cooks remember each face and what the individual likes to eat as they come into the mobile kitchen. Although working under extreme climatic conditions, they still remain cheerful as they help the Marines start their day.
"It could be worse. We could wake up to three [meals ready to eat] a day. Instead, we get a good hot meal at the start and end of each day," LCpl. Duane Harper, mess hall patron and logistics embarkation specialist, Strategic Mobility Office, I MEF said.
"We try to be personable in everything we do. We try to know what people want to eat before they ask," Robertson said.