Field Mess Provides Hot Chow to Expeditionary Marines
Story and Photos By Lance Cpt. Jimmie W. Perkins
26th MEU Combat Correspondent
CAMP MONTEITH, KOSOVO (June 23, 1999) — After many days of eating Meals Ready to Eat in the field, the luster of eating a Beef Ravioli or a Tuna Noodle meal starts to wear off. When the Marines of the 26th Marine Expeditionary Unit field mess began serving hot meals to the Marines operating here in Kosovo yesterday, they were a welcome sight.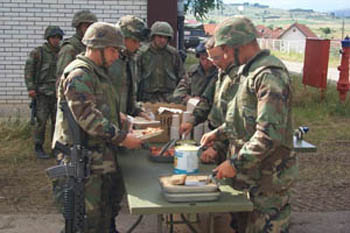 Operating from Camp Montith, the center of operations for the 26th MEU (SOC), the combat cooks deliver two meals a day to over one thousand Marines working in the nearby towns. The workday starts early for these Marines.
"We've been up since 3 a.m. the past two mornings and worked until almost 10 p.m.," said Sgt. Oscar Ortiz, a combat cook. "That will be our schedule until the MEU pulls out of Kosovo."
Working in three teams, the 19 Marines of the field mess must prepare and deliver hot meals called tray rations, or "T rats," in a coordinated and timely manner.
"It takes about 2-3 hours for us to prepare the deliveries before we leave," said Ortiz, a native of El Monte, Calif.
They deliver the food in Humvee's with special food heaters to cook the food as they race to their next location.
According to Sgt. Damian A. Sullivan, a combat cook and team leader, it takes about 40 minutes to cook each tray. This evening his team is tasked with delivering food to the Marines of Lima Battery, who are positioned in and around the town of Zegra. Their first stop is the Command post, which overlooks the valley and town. They pull up and quickly begin to set up the chow hall. Sullivan times them counting off the minutes.
"I have them down to five minutes to set up," said the Portsmouth, Va. native. "This is a great team because it usually takes 10 minutes to set up."
The Marines eagerly eyed the meal of Lasagna, green beans, applesauce and cake as a line formed up.
"The hot chow is definitely appreciated," said Miami native Cpl. Mario Flores, of Lima Battery. "It tastes a whole lot better than the MREs; after awhile they get tiring and the T rats are pretty good stuff."
Lance Cpl. Adam Hertz, standing watch from the .50 cal machine gun on top of a 5-ton truck shouts out, "Imagine an Italian bistro in Kosovo, this is great after two weeks of MRE's."
For Damian it is praise like this that makes the long hours worth it, "All it takes is one Marine to come up to me and say 'That was great chow' and I feel I have done my part.
A news release from the 26th MEU, dated June 23, 1999.
December 1999