Field Kitchen Up and Running at 'Caserma Barbarisi'
By Tech. Sgt. Ann Bennett
Air Force Print News
AVIANO AIR BASE, Italy (USAFENS) -- Caserma Barbarisi residents sat down this morning to their first meal in the tent city's dining facility, as services squadron members had the field kitchen up and running.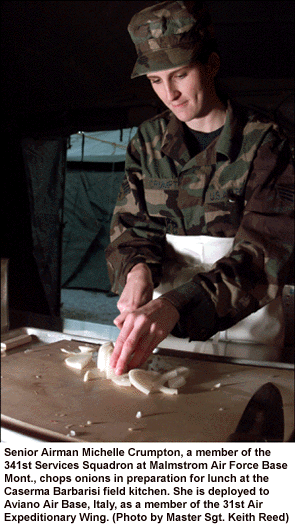 Preparations for the Feb. 25, 1999 breakfast started at 2 a.m. with services serving up traditional breakfast fare at 4 a.m.
"We're serving the same kind of meals as you would get in a dining facility on base," said Master Sgt. Jeff Garnand, team chief of the 48th Services Squadron group from RAF Lakenheath, England.
Three 17-person contingents from the 48th SVS; the 49th SVS at Holloman Air Force Base, N.M.; and the 341st SVS at Malmstrom AFB, Mont., set up the dining tent with the help of the 31st Civil Engineer Squadron here. The group will run the operation. A fourth 17-person team from the 52nd SVS at Spangdahlem Air Base, Germany, also helped with the set up but is now augmenting the Aviano's 31st SVS here.
The field kitchen and tent city were built to support possible NATO-led operations in Kosovo.
According to Holloman Tech. Sgt. Cathy Underwood, day shift leader at the field kitchen, everyone has been working great together.
"They know we're here as members of the 31st Air Expeditionary Wing and have to work as a team to get the job done."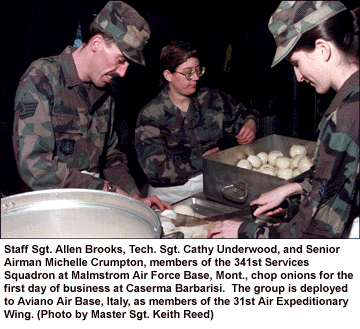 Services is preparing meals to feed about 800 people, using about 80 pounds of bacon, 200 dozen eggs, 21 pounds of ground beef and 40 pounds of hashbrown potatoes for this morning's meal alone. Before breakfast was over, they were already preparing for lunch which will consist of pepper steak, Polish sausage, mashed potatoes and an assortment of vegetables.
"We have to think in terms of large quantities and we have to start early to prepare for the next meal," Underwood said. Services members will be serving four meals a day -- breakfast, lunch, dinner and a midnight meal.
The dining facility was put together from two Harvest Eagle kits, and comes complete with electricity and heat. It consists of a kitchen tent with a serving line, field grills and ovens; a 190-capacity dining tent; a preparation tent with food preparation tables as well as sinks to wash pots, pans and utensils; a dry storage tent; four freezers; and four refrigerators. There are also three separate tents set up for maintaining the 36 burners used for cooking.
An US Air Force Europe news story, dated Feb. 26, 1999.
December 1999