USS Buffalo's Cooks Get Schooled at Bottom of Sea
Chef from Renowned Culinary Club Trains Sub's Cooks While Underway
By MSC (SS) Martin Mongiello, USN
YOKOSUKA, JAPAN -- You hear it all the time.
"Dive into your work; that's the best way to get anything done!"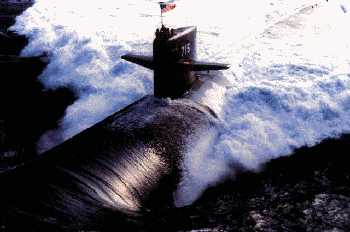 But, what if diving to the bottom of the ocean depths was part of your daily job as a cook? What if "going down under" was not a trip to Australia, but rather a visit to Neptune's darkest realm, the bottom of the sea?
Recently, as a U.S. Navy chief petty officer and American Culinary Federation/World Association of Cooks member, I offered to show and explain to new cooks aboard the sub what it is like. My target was Executive Chef Rick Scott of the world famous Tokyo American Club located in Tokyo, Japan. I offered him the opportunity to go on a cruise with USS Buffalo.
Scott did the U.S. Navy one better. Knowing that the Navy encourages training and education with the ACF and other chefs, he offered to work in the kitchen. I was elated, and proposed a two-day journey into the Pacific Ocean with the cooks and chefs of the Buffalo. We were set to go!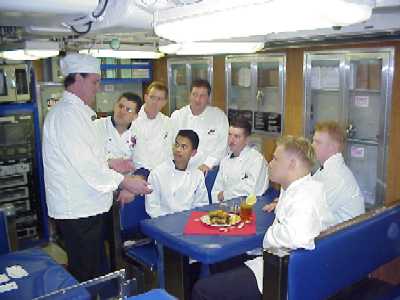 Scott was very upbeat and looking forward to the "astronaut-like" atmosphere, he said. His allergies were bothering him a bit on land and he had heard that we made our own oxygen out of seawater.
"Is it true that the atmosphere was purer onboard?" he asked. I promised him a clear nose for smelling the fresh hand made breads that would be baking in the sub's ovens all night long.
During the trip, we asked Scott to eat with the officers in the officer's dining room, then visit the crew's dining room to taste and sample items. Scott started out with an dinner of common submarine fare. The menu called for chicken parmigian. We couldn't make them fast enough -- the crew was going crazy!
After dinner, Scott sat in on a briefing of upcoming operations. The ship's supply officer offered to take Scott up to the control room so he could drive the Buffalo underwater. Scott was shocked. He was unsure if he could understand the myriad of dials and buttons.
"This is like a jumbo jet cockpit," he said.
With some tutoring from the smart crewmen of the Buffalo, he was off driving and diving.
Later that night, he would venture into the dark, coldness of the sonar room where stacks of hot action computer equipment are kept chilly 24 hours a day. Stops at fire control, navigation and the torpedo room showed more of the high technology that protects our way of life. It showed Scott the highly intelligent and friendly young men who leave their families for up to six months at a time.
In my quest to share with a fellow chef our submarine force and its chef's - I was successful. In my desire to see him impart knowledge and techniques, I hit the jackpot. Scott spent quality time with the mess management specialists and further encouraged them to join in the Chef's Exchange Program upon their return. This program is known as the Adopt a Ship Program. When Buffalo returns to its forward deployed port in Japan, I, as an American Culinary Federation/World Association of Cooks Chef, will be waiting on them. With friends like Rick Scott supporting the U.S. Navy, we'll see these young chefs working and learning as interns in his kitchens in Tokyo for a day or two.
Editors note: MSC Martin C.J. Mongiello is a former Executive Chef to the President of the United States. He is a Certified Executive Chef with the American Culinary Federation and member of the World Association of Cooks Societies. He has met with the chefs of Singapore, Japan, Korea, Okinawa, Guam and Jordan to set up WELCOME and EXCHANGE programs for his submarine chefs. You can contact him at supply2001@aol.com or at 81-311-743-7723.
See USS Buffalo's recipe for :
Pan Seared Marinated Buffalo Stuffed with Vidalia Onions,
Shitake Mushrooms and Black Tiger Prawns.
A US. 7th Fleet news story, dated Dec. 27, 1999.
January 2000