Hangar Bay Buffet on USS Wasp
By USS Wasp Public Affairs Office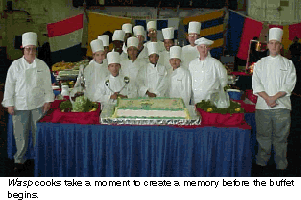 USS Wasp (LHD 1) Sailors enjoyed a rare opportunity for camaraderie and esprit de corps while steaming toward home port recently, filling the ships cavernous hangar bay to enjoy a buffet-style dinner during the last scheduled underway. The elaborate dinner, normally served to dignitaries, was the Supply Department's Food Service Division's way of saying "job well done" after Wasp successfully completed its final evaluation problem, missile exercise, and ammunition on load.
"We've done a lot of receptions since I've been on board, but this is the first one that we've done primarily for the crew," said LT Danny King, Food Service Officer, a native of Portsmouth, Va. "We had total command support," King said. "We did not have to twist any arms to make this take place. Crew members were even stopping on their way through the hangar bay to help us set up."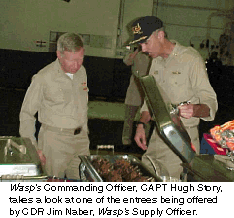 Together, blue shirts and khakis stood in line anxiously awaiting their chance to sample the fine cuisine. The reception was also an opportunity to showcase some of the Navy's newest advanced foods and gauge their acceptability by the crew. Seven separate entrees of advanced food products were served, saving both time and effort while providing Sailors with a delicious meal comparable to a five-star dining experience.
Advanced food products are prepared foods, similar to today's frozen food entrees, and need only minimal effort to heat and serve them. Some of the more exotic entrees were grilled salmon served with a lemon herb sauce, beef tenderloin filets served with a bordelaise sauce, seasoned duck breast served with a morel sauce, and cheese tortellini served with a creamy pesto sauce. The chicken breast teriyaki and stir-fry veggies were a crew favorite according to a survey taken by the FSO. All of these entrees were "heat and serve" items, while the sauces, which normally take hours to prepare from scratch, come in plastic pouches that are boiled and then applied to the main courses.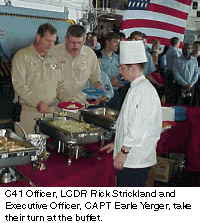 The shrimp cocktail was the most time intensive meal item that the cooks had to prepare. But with so much of the cooking simplified, the mess management specialists had ample time to show their talents in the artistic design of the food and garnishes.
"The cooks have talent that we don't get to use all the time," said Mess Specialist Second Class Gerard Duque, Food Service Division records keeper, from Dagupan City, Republic of Philippines. "On a normal day-to-day basis, we follow certain procedures to get the meals prepared on time. This dinner allowed us the time to be creative. It lets us show the crew what we can really do," Duque said. "Seeing the crew's expression definitely made it worth it."
Navy Supply Corps Newsletter story from the November/December 1999 issue.
January 2000