Home Cooking
Marine Corps Kitchen Brings Garrison Amenities to the Field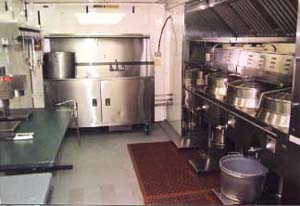 Three kettles and a food preparation sink with hot water from a tankless hot water heater are located on one side of the kitchen.
Home cooking takes on new meaning with the Marine Corps Rapid Deployment Kitchen.
Developed by the Department of Defense Food and Nutritional Research Program at the U.S. Army Soldier Systems Center (Natick), the kitchen allows cooks to prepare perishable and shelf-stable ration meals in the field with many of the conveniences found in a regular kitchen.
"The application is typical of what you'd find in garrison," said Mario Lucciarini, project officer of the Systems Equipment and Engineering Team, Natick Soldier Center.
The kitchen is a hard-shell, container-based facility measuring 8 feet by 8 feet by 20 feet, expandable on both sides. Designed to support assault echelons and maneuver elements of Marine air ground task forces, it's highly mobile and rapidly deployable with the capability of serving a minimum of 650 Marines two meals daily.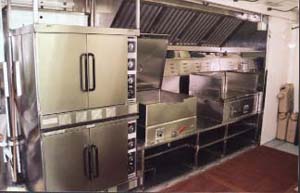 A double-stacked convection oven, skillet and griddle are available for cooks on the other side of the kitchen.
Used during a long-term deployment, it takes one hour to set up the kitchen and another 90 minutes to serve troops a meal.
Currently, Marine cooks use a tent-based kitchen with multiple gasoline-powered burners. The new kitchen also cuts the amount of cooks necessary to operate a field kitchen from 12 to five, according to Lucciarini.
Master Chief Petty Officer (Ret.) Dave Dillon, an equipment specialist for the Systems Equipment and Engineering Team, spent 28 years in Navy food service and knows the rigors and drawbacks of field food preparation.
He described the rapid deployment kitchen as the flagship of military field kitchens.
"We had mess tents that were generally cold and very time consuming to set up," Dillon said. "You worked on the ground, in the muck, where everything was wet."
He said gasoline burners could accidentally explode, a safety hazard removed with the new kitchen.
"With this kitchen, we've increased sanitation, and we're able to prepare more complicated meals," he said. "I've cooked with it. No special cook skills are needed to operate it."
In the field, cooks were limited to B-rations, mainly dried products that needed to be hydrated, but the new kitchen will allow cooks to prepare A-rations, which include fresh or frozen meats and vegetables.
The kitchen is a new concept in field food preparation. While other field kitchens use electric or gasoline M2 burners, the rapid deployment kitchen uses a state-of-the-art low-pressure energy transfer system similar to a hot-water-type home heating system.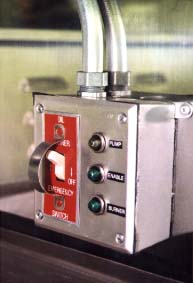 A safety switch on the wall cuts off power to the burner in case of an emergency.
A single commercial oil burner heats a food-grade mineral oil to 450 degrees, and the heated fluid is then circulated to the appliances with a pump. Commercial appliances adapted for this technology are configured with double-wall plates, similar to radiators, where the fluid circulates. A thermostat cycles the burner on and off to maintain fluid temperature, and temperature controls on the appliances cycle valves open and closed to maintain the appliance temperatures.
"There's no guessing on the cooking temperatures and no open flame. There's no need to learn another system because of the safety hazards of gasoline burners. Safety with this kitchen is unparalleled," Dillon said.
The commercial burner is powered with the standard battlefield fuels of diesel, JP-8 or kerosene. Safety switches on both sides instantly cut off power if necessary.
It has a fuel efficiency rating of 80 percent vs. 20 percent in the other field kitchens that have burners, such as the containerized kitchen or mobile kitchen trailer, and has the low power requirements of a 10-kilowatt tactically-quiet electric generator. The high efficiency translates into fuel savings and less kitchen heat.
The kitchen has a ventilation system over the appliances; appliances use 75 percent of the heat while the remaining 25 percent escapes out a chimney.
It has fewer parts than other field kitchens, which means high reliability, low operating costs and low maintenance, and it's powerful. For example, kettle water takes less than 15 minutes to boil.
Equipment inside includes a 30-cubic-foot refrigerator, 3 foot by 2-foot griddle, a skillet, three kettles and a double-stacked convection oven.
A hand wash sink and two well food preparation sink are supplied with continuous hot water from a tankless water heater. Accessed from the outside, the mechanical room contains a circulating pump, burner and heat exchange. It's vented, and has fire-resistant and sound-deadening walls. The kitchen can be powered directly by a generator or by plugging into an outside electrical source.
Meals are served like a dining facility in a garrison environment. Tents can be complexed next to the kitchen to create a dining area.
Operational testing was conducted at Natick and by the manufacturer. Technical testing was performed this summer at the Aberdeen Test Center at Aberdeen Proving Grounds, Md.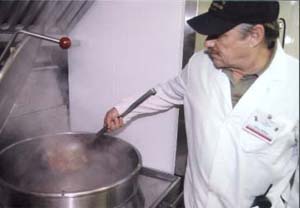 Dave Dillon, an equipment specialist for the Systems Equipment and Engineering Team, stirs a kettle of beef stew in the kitchen.
More testing is scheduled for Camp Lejeune, N.C., in the spring of 2000. The Marine Corps plans on procuring 85 rapid deployment kitchens.
"We're giving the Marine cooks an atmosphere where they can feel good about themselves," Dillon said. This field kitchen can combine the comforts home cooking together with the quality of home cooking.
"(Meal preparation) in the rapid deployment kitchen is only limited by the supply of food. To me, as a cook, that's very exciting."
An Natick Warrior story from the Jan./Feb. 2000 issue.
January 2000