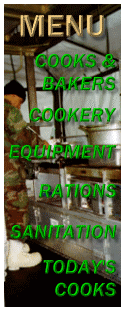 2000 Philip A. Connelly Awards
Winners and Runners-Up
Byline
The International Food Service Executive Association (IFSEA) and the Department of The Army's deputy chief of staff for logistics announced the winners of the 2000 Connelly Competition in both the Active Army and Reserve Component categories on December 20, 1999. The U.S. Army Quartermaster Center & School will designated representatives from the winning and runner-up units to attend The Connelly Awards Ceremony, held in conjunction with the IFSEA annual conference. This year's conference will be at the Hyatt Regency O'Hare, at O'Hare International Airport, 9300 West Bryn Mawr, Rosemont, Ill., April 6 to 9, 2000. Other interested unit or major command representatives may attend the conference and ceremony, if sanctioned and funded by their respective headquarters.
Additional information regarding the Department of the Army competition and the Connelly Ceremony may be coordinated with Sgt. Major Vera Harris, Master Sgt. Raymond Arnold, or Mrs. Joy Oliver, DSN 687-3029 or commercial (804) 734-3028/9/3790.
The Connelly winners and runners-up are:
Category
Winner
Runner-Up
Small Garrison
HHC 16th Combat Support Group Hanua, Germany
HHC, Division Support Command, 101st Airborne Div. (Air Assault), Fort Campbell, Ky.
Large Garrison
HHC 45th Corps Support Group (Forward) A Quad, Schofield Barracks, Hawaii
212th Field Artillery Brig.,
111th Armor Corps Artillery Fort Sill, Okla.
Active Army Field Kitchen
260th Quartermaster Batt., 3D Infantry Div. (Mechanized), Fort Stewart, Ga.
HHS, 2nd Batt., 15th Field Artillery Fort Drum, N.Y.
Army Reserve
865th Combat Support Hospital (77th Reserve Support Command) Niagara Falls, N.Y.
349th General Support Hospital (63rd Reserve Support Command), Los Angeles, Calif.
Army National Guard
HQ & A Co., 429th Support Batt. (Forward) Staunton, Va.
HHC, 141st Engineer Batt. (Combat), Valley City, N.D.
From the Army Center for Excellence -- Subsistence web site.
February 2000