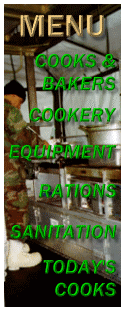 Cooks: Barbie, The Cook
Capt. Al Gorman
Pfc. Barbie Huscussun, of Dover, Ohio, a member of the 1485th Transportation Company, Canton, Ohio, prepares watermelon for the evening meal. (U.S. Army Photo by Capt. Al Gorman, Wyoming Army National Guard)
SAN RAMON, Nicaragua -- Pfc. Barbie Huscussun, of Dover, Ohio, a member of the 1485th Transportation Company, Canton, Ohio, prepares watermelon for the evening meal. Huscusson's section prepares two meals a day for over 280 U.S. service members who are in northern Nicaragua to aid those who were most effected by Hurricane Mitch last October.
"I was expecting my experience in Nicaragua to be a lot worse, so far things are going pretty good," says Huscusson, referring to troop living conditions.
As part of their annual training mission, soldiers, airmen, sailors and Marines will spend the next three months constructing schools, clinics, drilling water wells and conducting medical missions in the Nicaraguan villages most effected by Mitch. These citizen-soldiers are part of the expanded series of New Horizons '99 exercises being conducted throughout Central America to provide relief assistance in the wake of the devastation caused by the hurricanes last October..
Capt. Al Gorman is a member of the Wyoming Army National Guard. He is Task Force Esteli's Public Affairs Officer, directing activities within Nicaragua.
From the Joint Information Bureau of the U.S. Southern Command's Forward Command Element.
March 2000