Field Kitchen Means Hot Chow
26th Marine Expeditionary Unit
By Cpl. Derek A. Shoemake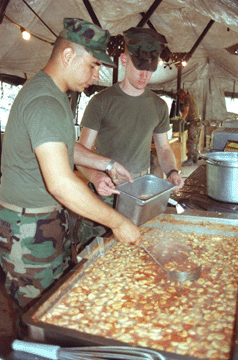 Lance Corporal Yosbel Millares, Miami native and cook with the 26th Marine Expeditionary Unit's Battalion Landing Team 2/2's Field Mess scoops Shrimp Creole while LCpl. John Epple, fellow cook, helps hold the container. Millares and Epple are two of the 14 Marines that make up the Field Mess section, which is responsible for providing Marines in the field with two hot meals a day.
CAMP LEJEUNE, N.C. (April 13, 2000) -- When the 26th Marine Expeditionary Unit's (MEU) Battalion Landing Team (BLT) 2/2 goes to the field, they take everything but the kitchen sink. Well, actually, they take that too.
In fact, Marines with BLT 2/2's field mess take an entire kitchen.
According to Sgt. Brian Fuentes, Bronx, N.Y. native and chief cook with the field mess, the field kitchen can be set up within two to three days. "That's really the only thing that makes us different than a stationary mess hall. We have the same quality of food," he said. "We have to have quick pick up and go."
There are also other differences between the field kitchen and a standard mess hall, namely the number of Marines. Battalion Landing Team 2/2's field kitchen has only 14 Marines, only three of which are food service specialist, or cooks. The other Marines are augments from other military occupational specialties, and hold the title mess men.
According to Fuentes, this smaller staff means more time and work involved for the Marines on hand. For breakfast, a Marine will arrive at 10 p.m. the night before to fire up the burners so cooks can begin preparing food by midnight. This food should be ready by 5 a.m.
For dinner, the Marines of the field mess will repeat this process starting between 9 a.m. and 11 a.m. Fuentes said this heavy workload is why the field kitchen does not prepare lunch.
"When we're in the field," said Lance Cpl. Alexander Linares, field cook and Miami, Fla. native, "you're lucky to get two or three hours sleep. The work isn't all that hard, but the hours are long."
That work consists of making enough meals to serve as many as 2000 people, which means the Marines would be capable of feeding the entire MEU.
Other than enlisting the help of Marines within the BLT to pitch the tents, field mess Marines set up the entire the field kitchen by themselves. According to Fuentes, their field kitchen contains several stoves, two giant refrigeration units, several pots, pans and hundreds of canned and perishable goods.
However, Fuentes points out, all the work and food is wasted if a gust of wind blows sand into a pot.
"If our stuff isn't sanitary, especially out here in a field environment, then people can get sick," said Fuentes. "If this is the real thing, and we're out in the middle of nowhere, there's no telling where food poisoning can lead to."
In addition to closed-lid pots and bins, the Marines ensure sanitation by washing hands in between meal preparation and bathing either in the rear or with a field shower on a regular basis.
The dedication the field mess Marines have to their food's sanitation carries over into its variety.
"I think the Marines like the Shrimp Creole dish the best," said Linares.
"The Shrimp Creole is good," said Christian Zappley, fire team leader with BLT 2/2's Fox Company and West Deptford, N.J. native. "But I kind of like the (chili and macaroni). I guess I'm old fashioned."
Though opinions on favorite dishes vary, most Marines have the same opinion on having cooked food in the field.
"You really can't beat having hot chow, especially when its cold out," said Cpl. Thomas Youts, fire team leader with BLT 2/2's Fox Company and Lexington, Kent. native. "Plus it's a morale booster. When Marines see the chow truck coming their spirits raise a little. It's definitely better than eating dried food from a bag."
A Marine Corps news story, dated April 13, 2000.
May 2000