More vegetables
Variety of Meatless Entrees Expanded in Combat Ration Menu
Mothers of the nation's service members have a reason to rejoice: Not only are their sons and daughters eating their vegetables, they want more!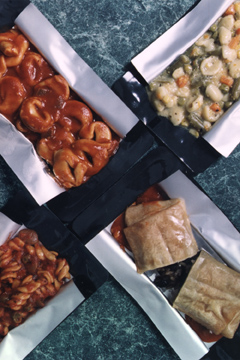 In response to their request, scientists at the Department of Defense Combat Feeding Program at the U.S. Army Soldier Systems Center (Natick) are working to include more vegetarian entrees on their Meals, Ready-to-Eat menu.
MREs are intended to feed warfighters in the field and on the move. They replaced the old C-Rations in the early 1980s. Since then, food technologists have continually updated and improved the menu offerings.
Their contents and packaging must be capable of surviving an airdrop and temperatures ranging from 60 below zero to 120 degrees F. In addition to freshness, nutritional and durability challenges, the meals must also taste good if they are to serve their purpose of feeding the warfighter to maximize performance.
Thus, the improvements to the meals have been largely fueled by the warfighters themselves, who fill out satisfaction surveys administered by the Operational Forces Interface Group, also part of the Soldier Systems Center.
After Operation Desert Storm, surveys indicated that the food preferences of the members of the Armed Forces closely resembled those of the general population. They wanted more ethnic foods and more vegetarian offerings.
"More and more soldiers are becoming health conscious, and even those who are not vegetarians enjoy an occasional meatless meal," said Judith Aylward, a registered dietician and a food technologist with the DoD Combat Feeding Program.
A case of 12 MREs now contains two vegetarian selections, which in the near future may increase to three. Soldiers now enjoy the following vegetarian entrees: pasta with vegetables in tomato sauce, cheese tortellini, pasta with vegetables in alfredo sauce, and black bean and rice burrito. The pasta with vegetables in tomato sauce was a hit with the Marines who first tested it.
"Some of the Marines who taste-tested the pasta and vegetable with tomato sauce offering said that eating the meal was like eating at the Olive Garden," said Aylward. "The perception that the warfighters only want meat and potatoes no longer holds true."
Aylward said that later this year, the program will be testing a vegetarian lasagna with carrots and spinach MRE. Other MRE vegetarian items for soldiers are being developed as well, including a vegetarian omelet with salsa and a vegetarian gumbo.
The changing tastes of service members are also reflected by the popularity of the miniature bottle of Tabasco sauce that was added in 1993. Aylward said that ground red pepper packets and herbal seasoning packets will be introduced in 2002 to increase the variety of seasonings.
Although warfighters are becoming more health conscious, low-fat or low-calorie offerings are not feasible given the physical demands of their jobs. A soldier in the field needs about 3,600 calories a day. MREs typically contain 1,200-1,300 calories per meal, composed of 50 percent carbohydrates, 35 percent fat, and 15 percent protein.
MRE vegetarian meals do not contain any ingredients that are derived from animal or animal by-products. They also contain no alcohol products. In addition to the warfighters, other groups are interested in the vegetarian MREs.
"NASA, a long-time MRE customer, is interested in more vegetarian entrees as well. Astronauts are a very health conscious, elite group," Aylward said.
She said that the offerings also appeal to campers and outdoor sports enthusiasts, who order MREs from catalogs.
Aylward added that the Combat Feeding Program works closely with the Office of the Surgeon General to ensure high safety and nutritional standards for all meals, including vegetarian meals. The program also confers with the Armed Forces Chaplain's Board to meet the needs of those service members who have religious dietary restrictions.
This article is from the September/October 2000 edition of The Warrior.
October 2000