David Castle's Restored Army Kitchen Truck
By David Castle and Steve Karoly
[Articles on Castle's Truck] [Army Kitchen Truck Doctrine]
In 1990, I joined the Alaska Territorial Calvary (Motorized), a club of men and women who restore and exhibit military vehicles. Col. Jon Goodman, my boss and director of logistics for the Alaska Army National Guard at the time, got me interested in joining the club one day when he was talking about a World War II vehicle that he was restoring. I joined the club with the idea of finding and restoring a Willys Jeep. I was looking for a jeep when George Glazier, a member of the club, bought an M211 2-1/2-ton, 6X6 truck from a guy who was going to convert it into a hunting rig.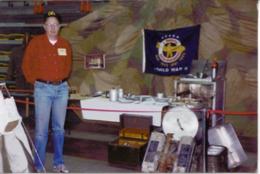 The truck brought back lot of memories when I saw it. Although I have seen countless 2-1/2-ton trucks in my 29-year Army National Guard career, Glaiser's M211 reminded me most of truck that I drove when I first enlisted in the Virginia Army National Guard. Since I was the lowest ranking cook in B Company of the 3rd Battalion of the 116th Infantry, I was assigned as the driver for the kitchen truck, a M211 like the one Glazier purchased. I then knew that I wanted to restore a M211 back to a kitchen truck.
The Truck Brought Back Memories When I Saw It
Purchasing a M211 2-1/2-Ton Truck and Getting It Home
Photos from Elmendroff AFB Air Show
Army doctrine on the use of the kitchen truck
1944 Army Kitchen Truck TM 10-205 (1944)
Serving Food in the Field TM 10-205 (1944)
Field Messing in Forward Areas TM 10-402 (1951)
Serving Meals in the Combat Area TM 10-402 (1951)
Food Preparation and Serving TM 10-405 (1967)
Master Sgt. David Castle is a fulltime Army National Guardsman. When he is not tinkering with his M211 kitchen truck, he is the food service technician and class I manager for the Alaska Army National Guard. On weekends, he drills with Headquarters Company of the 207th Infantry Group (Scouts), where he serves as the group's food service supervisor. Castle lives in Anchorage.
February 2000