A Seabee's Impressions of Yo Do
By Steve Karoly
Henrick Thode faced two choices in January 1951: One took him home to the town of Yaphank, on Long Island¾ for a few months, at least. The other ultimately sent him to the Western Pacific.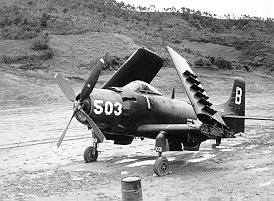 This AD-4 Skyraider, which belonged to VF 195 from the USS Princeton (CVA 37), was among the first aircraft to make an emergency landing on Yo Do, according to Thode. Note the bullet hole through the top propeller. A group of holes is visible on the engine cowling. A line of bullet holes can be seen next to the cockpit.
After serving one year on active duty as a reservist, Thode's discharge date arrived on January 25, 1950. "I went down to sign my papers to get out of there," said Thode, "Then it dawned on me: The minute I get out, I have four years active reserve or six years inactive reserve attached. As soon as I got back to New York, they'd pull me back in."
Faced with the prospect of being recalled to active duty in the event of war, Thode reasoned that he would rather remain of active duty with his current unit than to hook up with an unfamiliar group of Seabees. "These are guys I liked," remembered Thode. "I liked to serve with these guys." Thode felt it was better to serve with Seabees he knew than to get reacquainted with a new unit.
So Thode went down to ACB 1's Personnel Office at Coronado, Calif. and shipped over for an additional four years. Eight months later, Thode was in Korea.
Yo Do Island
September 1950 found Thode in Inchon. A month later he was in Wonsan with the ACB 1 detachment that supported X Corps' push to the Chosin Reservoir. By December, he was at Camp McGill––ACB 1's Western Pacific base in Yokosuka, Japan. He did not return to Korea until June 1952.
Thode, a Steelworker Second Class by this time, worked in the steelworker's shop on Yo Do Island with SW1 Arthur Jones, SWCN Joseph Clarke and SWCN Louis Rozardo. Several bulldozers and "pans" kept this four-man steel fabrication and welding team busy. They constantly replaced worn wire control cables and welded broken arms of bulldozer blades.
On one occasion, he helped float barrels of aviation gasoline from the supply ship to shore under fire. "[The North Koreans] kept shelling us," said Thode. "We actually couldn't do anything with the fuel but roll it down ramp [of the LST] into the water. Each one would swim out and take one of these barrels and swim it back to shore." Once he reached the beach, an equipment operator used a cherry picker to move the barrel onto shore. The fuel was dispersed among the trees to keep it camouflaged.
Each night, after repairing on equipment all day, the Seabees of Det. George retired to a camp on an adjacent hill. He said the entire island was trip-mined by the US Marines and ROK Marines. "Going up, they would mine the road in back of us until we got to the top of the hill. In the morning as we came down, they took the mines out of the road."
Of course, the main job of the Seabees at Yo Do Island was to build an emergency-landing runway for Task Force 77. Thode remembers building the airstrip over the only rice paddies on the island. He said they "blew the mountain away" at the north end of the runway.
There was time to watch incoming for aircraft. He watched an R4D¾ the Navy's version of the versatile C47¾ deliver passengers and supplies to the garrison on the island. Another time he watched a small cargo plane bring war correspondent Marguerite Higgins to in to interview the troops.
But the rescue of a shot up AD-4 Douglas Skyraider proved one of the most rewarding experiences of the deployment for Thode. After he explained how carrier planes would swoop down on the beach at Wonsan and attack North Korean trucks, Thode said that antiaircraft fire damaged many.
"One of the first planes to land on our strip, they had blown one of the four props in half, said Thode. "So he sputtered in. When we actually went over to the plane to look at it, [the pilot] wasn't touched, but the bullet [holes ran] between his legs."
This is the point where a man contemplates the choices he has made in life. Had he waited to be recalled when the war broke out, he could have spent the summer of 1952 building the Cubi Point air base with NMCB 2. Or he could have sailed for Bermuda with CBD 1518. But Thode chose, instead, a course that took him to war.
The greatest danger on Yo Do Island came from North Korean artillery. Thode said they were shelled "quite a bit." Their first task each morning was fill the shell holes in on the runway so planes could land.
Thode said they were not hit every day, though. "When we first landed, I know they hit the water a lot. So they were kind of inaccurate." The heavy cruiser, USS Helena (CA 75), helped keep the North Korean gunners at bay, according to Thode. He remembers the Helena lurking about in the bay looking for targets
And he is thankful that the North Koreans never hit them while they were moving fuel ashore. But they did get a scare or two. "We'd be sitting in the movie and all of a sudden one of these mines would go off, said Thode. "And then a contingent of ROK Marines would disappear. Sometimes we'd go down [to the beach] and find pieces of bodies in the water." The North Koreans never attempted to retake the island while the Seabees were on board, though.
Even when most of the Seabees of Det. George returned to Japan, Thode again made a critical decision. He volunteered to remained on the island with a 10-man maintain team. These Seabees spent another 23 days on Yo Do Island.
Thirty-nine days after landing, Thode and the nine other Seabees boarded the USS Comstock and returned to Japan. One of the last things they did was to take a photograph of their group on a large concrete sundial on top of the island. Of the 10, Thode only remembers three: CDCN Russell Baldwin, CE1 Gerald West and CMC Eugene Weatherford, the petty officer in charge of the Det. George Able.
After returning to Japan, Thode returned to the steelworker's shop at Camp McGill and got ready for his next assignment. He moved to the large naval base at Agana, Guam and joined the 103rd NCB where he built semi-trailers and laid rebar for concrete housing for Navy dependents. One year later, on December 9, 1953, Thode returned home. His tour was complete.
This story is found in No. 5 (Winter 1999) of the Seabee Log.