Converting an M1937 Fire Unit to Propane
Supplies and Tools (Part 4)
By David Jarvela
Click on the thumbnail for a larger view of each photograph.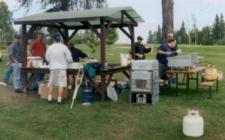 The converted M1937 fire unit in operation at a Hockey Booster's Golf Tournament.
You need the following items to proceed with the conversion (see bellow for standard abbreviations):
One 3/8" fem. thd. npt AGA certified needle valve

One 3/8"x1/4" blk. reducing coupling

One 3/8"x1-1/4" long blk. nipple

One-1/4" blk. close nipple

One-1/4" blk. coupling

One-1/4" blk. plug

One piece-1/2" type M copper tubing cut to the length of the 1/4" coupling (one of mine was 13/16" and the other was 7/8" long)

Four 1" outside diameter flat washers (two to slide over the 1/4" close nipple, and two to slide over the threads on the orifice)

One-1/4" npt male thd. brass gas orifice with hole sized to a #57 numbered drill bit

Small can or tube of pipe thread compound such as La-Co Slic-tite or Rector Seal (my personal preference is Slic-tite)

One high pressure L.P. regulator with P.O.L. fitting (this will be described later on)

One-hose from regulator to needle valve

One-3/8" npt. male thd. x1/4" inverted flare adapter to attach hose to needle valve.
You may purchase these items from your local hardware store, plumbing supplier and propane dealer. You may have to use a combination of vendors depending on what they stock. To do the work you will need:
Two 6" or 8" adjustable wrenches

Large slotted screwdriver

6" or 10" pipe wrench

Small vise
Abbreviations used in this article
| Abbreviation | Meaning |
| --- | --- |
| fem. | female |
| thd. | thread |
| npt. | national pipe thread |
| AGA. | American Gas Association |
| blk. | black (this is standard black pipe and fittings as opposed to galvanized. Code generally does not allow galvanized pipe or fittings on gas systems.) |
| type M copper | standard copper tubing. The M signifies the thickness of the tubing wall. |
| L.P. | liquefied petroleum gas (in other words, propane) |
Articles:
David Jarvela is a native of White Pine, Mich. He currently lives in Hoyt Lakes, Minn. Questions or comments? E-mail him at: Yooper_in_Mn@yahoo.com
Copyright © 2000 by David Jarvela. All rights reserved. Used with permission.
October 2000