Converting an M1937 Fire Unit to Propane
Cooking with the Propane Burners (Part 8)
By David Jarvela
Click on the thumbnail for a larger view of each photograph.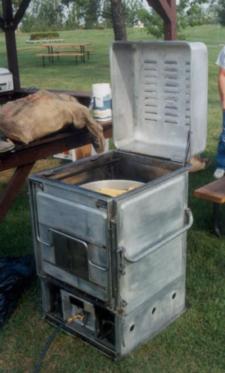 The converted M1937 fire unit heating a 15 gallon pot of corn on the cob inside an M59 fire range.
Shortly after finishing my conversion, I got a chance to test my units at a local festival know as the Water Carnival. Every year, the fire department that I belong to sells baron of beef sandwiches as a fundraiser.
This year we added corn on the cob to the menu. I brought my ranges to the booth and set them up on a 100-pound propane bottle with a wye fitting I purchased for $18. Both units were heating all weekend long at everything from a slow simmer to a full boil, and they only used about half of the bottle.
My second opportunity to use the ranges proved just as successful. It even gave me the opportunity to meet two former NFL players, the most famous being Minnesota Viking James Marshall. The burners again proved they weren't too heavy on gas usage.
I am happy with my purchase. I plan to convert an M-2 burner and report on that at a later date.
<<= Previous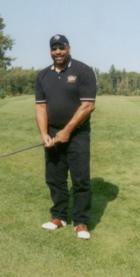 Minnesota Viking great James Marshall.
Articles:
David Jarvela is a native of White Pine, Mich. He currently lives in Hoyt Lakes, Minn. Questions or comments? E-mail him at: Yooper_in_Mn@yahoo.com
Copyright © 2000 by David Jarvela. All rights reserved. Used with permission.
October 2000